Hello and welcome to another post,
Amazon has been getting it right lately, especially with their selection of summer dresses. I'm really excited about these ones because if you're on my Instagram, you've seen me sharing quite a bit of Amazon favorites lately in Stories.
I recently shared how I signed up for a free month of Prime and you can too with this link. With Prime Day coming up, now is the best time to start saving those favorites and any items you find.
I hope to make it a bit easier for you with my selection of dresses for summer.
No matter the occasion or your body type, you will find a dress for you here.
1. Summer Midi Dress
I love this dress because you can wear it two ways, with the sleeves up or down. It's especially great for summer because it comes in solid colors and patterns. Get this dress, you won't regret it.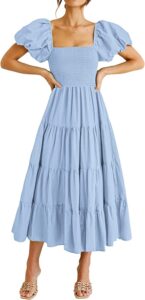 Dress. It even comes in a shorter version
2. Tube Dress
It's tube dress season and bandeau styles are coming in to play from the 90s. Go bold in this style by going simple. Yes, that's truly the allure of Summer 2023. The 90s were not about overdoing things, it was about effortless simplicity with lots of denim, midriff baring tops, fabrics that drape easily to the side and bandeau styles.
These are all back thanks to the Tiktok generation and I'm here for it.

3. Tiered Halter Dress
When you have an occasion but don't know what to wear, keep it simple. This tiered halter dress does just that, with halter being another style from the 90s making its way back.
I particularly love this dress in all the colors it comes in. Go find yours.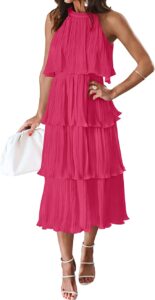 4. Twist Tube Dress
You've seen this on my Instagram @memkohliving and just so you know, I phenomenally love this dress. yup! just invented those string of words to hopefully convey my love for it.
Got it in April after months of staring at it in my cart and let me tell you, it was the best decision ever. I got home from the barber's after cutting my hair and there it was, waiting for me. I felt brand new in this dress and you will too.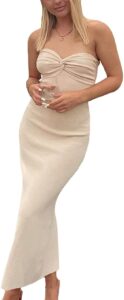 5.
Wedding Cocktail Strapless Dress
Ok listen, that wedding you are planning on going for that is stressing you out is not that deep. Get this dress and save yourself the trouble. I recently watched a video of a youtuber in a similar dress from Lavish Alice and it was at least 4x the price of this one on Amazon.
So, get it. Seeing it on someone helped me appreciate it more especially because I don't buy a lot of satin/silk. Now I'm locked in and can't wait to get this in champagne.
My favorite thing about this dress is the foldover detail in front. It makes it formal. I also love the way the satin drapes. You have to see the back.

Silk Strapless Dress | even more colors
6.
Cut Out Formal Party Dress 
I like this dress because of how multifaceted it is. I can wear it on vacation and also for a beautiful summer wedding. Get it is all I will say.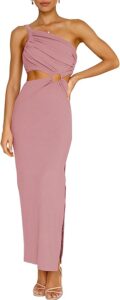 7. Off Shoulder Puff Sleeve Dress
What's better than off shoulder? Puff sleeves!
I absolutely adore the puff sleeve detail of this dress. Plus, off shoulder styles are so universally flattering and the colors of this dress make it an absolute must-have.
Also if you've noticed, there's a current trio of necklines that are trending – tube styles, halter neck and off shoulder. You're welcome 🙂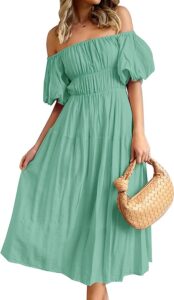 Puff Sleeve Dress | Cute shorter version
I will personally be picking up this dress in this color.
8.
Halter Neck Smocked Dress
If you're going on vacation, you need this dress. I love how it comes in floral prints but also has solid colors for people like me who lean more towards those. But I absolutely adore this print and it's on my wishlist.
The smocked detail on the bodice allows for a perfect fit and with halter straps, you can adjust it to be as comfortable as you want. I also really like the ruffles in tiered layers of this dress. In all, it is the perfect midi dress for your summer vacation. Look no further.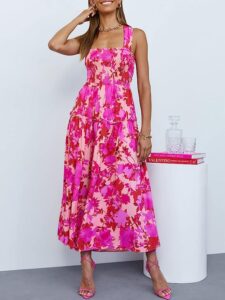 Smocked Casual dress | Option 2 more solid colors | Option 3 Spaghetti style | Wrap neckline
9. Two Piece Dress
I think two-piece dresses are a must-have! This elegant number checks all the boxes – pretty fabric, lightweight and flattering. I really like how the top has a slight asymmetrical detail and you can totally wear this for a wedding as well as a vacation dinner or date night. J'adore! I wanted to say J'absolutely-dore. hehe

10.
Casual Summer Loose Maxi Dress
What is summer without a white maxi dress?
Going to the beach? Out on the town? Off on vacation? No matter where you are going, this dress is perfect. I have been hunting down one on H&M which sold out, and I'm happy Amazon carries exactly what I'm looking for. Get this dress, you need it.
Heat wave is coming.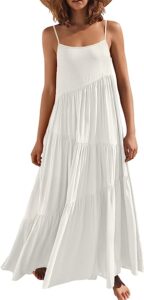 Thank you for reading, those are my current favorite dresses on Amazon. If I could add one more, it would be this. Hope you are able to find something. Please tag me on Instagram @memkohliving if you get any of these styles.
You can check out my Amazon store for more and you can also try Amazon Music for 3 months free.
See you soon!
– Memkoh
this post may contain affiliate links to compensate for the time and effort spent in putting it together. it takes about 5 hours from concept to researching items to drafting, editing and hitting publish. stores give us a little commission as a way of saying thank you for driving a sale. if you shop with our links, it will mean a lot to us and keep this blog going. thank you.