the skims holiday shop just launched. yay!
it's been a long year, rough for some of us but something about the christmas holidays makes everything better.
here are my top picks from the skims holiday shop. you will want to grab whatever you need immediately, as stock flies out on skims. don't say i didn't tell ya.
1. soft lounge glitter slip dress
this popular style has sold out multiple times thanks to its love on tiktok. but don't worry, skims was sure to bring out this hit dress in a glittery style, perfect for the holidays. you have to grab one. i'll sit this one out since i already have it in five colors (black, white, gold, pink and wine). it's your turn now. 🙂
the original comes in over twelve colors while the holiday glitter style comes in 5 colors and 4 cuts.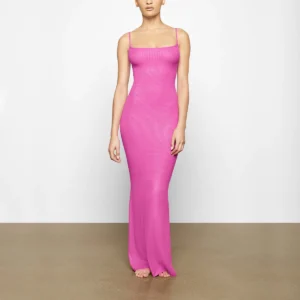 get it here: thin strap version | long sleeve | racerback | round neck long sleeve
2. the cotton rib romper
i just bought this in gray and i love it! maybe if i had waited for the holiday shop to open, i would have gotten a seasonal color. i'm still debating whether i should add one more to my collection or focus on my wishlist. that should tell you that you need this. perfect for lounging around the house or running errands.
and, cotton rib is one of skims' most iconic fabrics, my verdict.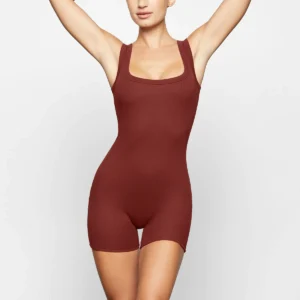 for sizing, i sized up since the leg of the romper is a bit short and so that it's more relaxed for wearing at home since it's too cold to spot this out.
get the cotton rib romper
3. soft lounge pajamas set
skims soft lounge is to die for. that feel of the smooth fabric when you glide your hands over it is unmatched. i ordered one recently in a size too small because it was sold out in my size (i was desperate and skims shoppers don't play). i can't wait for that color to come back in stock.
size up if you want a boxier fit.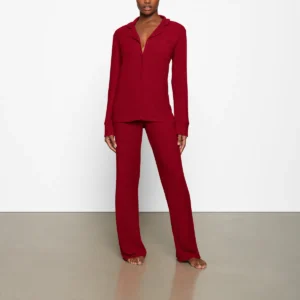 get the pajamas set | other colors | pants only
4. skims fleece
fleece and cozy. cozy is skims' most softest (yes, i said that) fabric. i'm wearing one as i type this. they brought this out in unisex styles, perfect for your holiday cards.
i haven't tried the fleece but i bet it feels really good and high quality.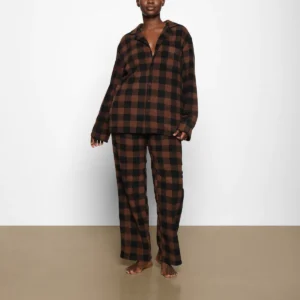 fleece pajama set | kids fleece set

this comes in the plaid style like the fleece too. get the robe | cozy unisex hoodie | cozy unisex joggers
kids:
kids cozy onesie | unisex pullover | kids cozy knit jogger
5. boxers set
skims boxers are really the truth. you can wear them under clothes for added comfort and security, or wear it out on its own or for lounging, my favorite. i have way too many skims boxers than i'm willing to count. can you see where i'm going with this?
this set is a good way to save on your favorite colors this season. comes with a matching tank set so you can complete your looks. p.s. skims tank tops sell out at lightning speeds. again, this is that highly sought after cotton rib.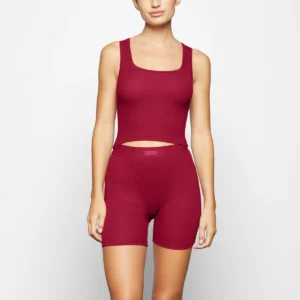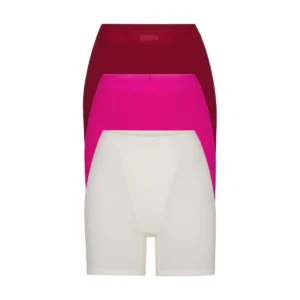 get the cotton rib boxers set | tank set cotton rib
it comes in 2 color tones – pink, red pack and the green, blue pack
6. onesie
who doesn't love a onesie for christmas?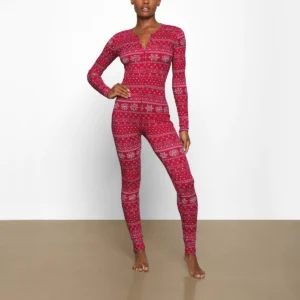 get it here: henley logo pointelle onesie | kids onesie
this style also comes as a separate top and leggings set.
bubble gum pink is one of skims most-loved colors and the pink trend definitely started from the launch of this year's valentine's collection. it rippled all through the fashion industry.
7. skims leggings and tank tops
in addition to the boxers, the leggings are a top fave especially in white – bone. the fit is incredible and the waist makes you snattched!!!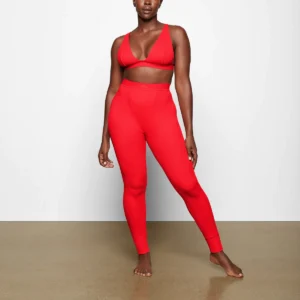 get the cotton rib leggings | plunge bralette | cotton rib tank | boxers | thong | brief
i really love the sangria color btw.
8. underwear
skims has launched the panty shop that you should absolutely check out. currently, all panties are 5 for $40, a major steal.
you can get a pack of briefs here.
for the holiday shop, i'm loving cotton jersey. it is the smooth version of cotton rib without the ribbed detail.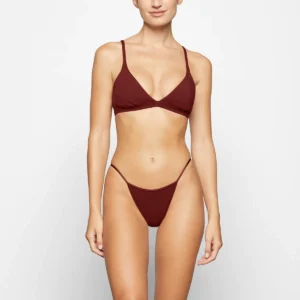 you should get these top underwear: cotton jersey string bikini | cheeky | dipped thong | micro thong | bra pack
scoop bralette (individuals) | triangle bra pack
9. cotton jersey t-shirts and long-sleeves
made with 90% cotton and 10% spandex, skims t-shirts are in a league of its own. i own one and it is incredibly soft and comfortable. mine is from the logo pointelle collection and i got it in white, so i take absolutely good care of it. they sell out quickly especially in white. black and the darkest shade of brown, cocoa are top contenders too.
for the holidays, sangria and ruby are your best bet.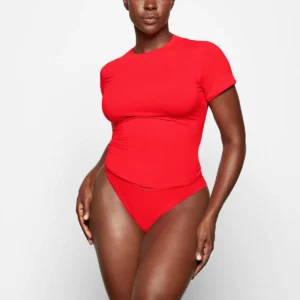 i always size up. it's up to your preference. i like a more relaxed look in tees and skims tees are pretty fitted.
get the cotton jersey t-shirt | long sleeves | logo pointelle t-shirt
10. socks!!!!
skims sockssssss! i was dreaming of having the cozy robes in a sock and skims delivered.
i particularly love the slouch sock as i got that in the summer. i wear it for lounging and it feels really nice on and stylish with the slouchy look.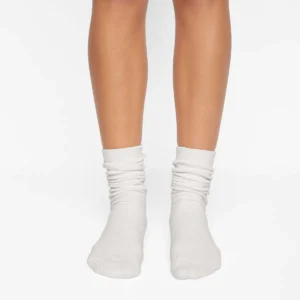 cozy socks | slouch sock | plaid cozy socks | crew socks
sock packs: slouch sock pack | sports crew socks pack
don't forget the gift wrapping too
bonus: duvet coat
One thing I really like and read good reviews about is the duvet coat. Like the name sounds, it's literally like wrapping yourself in your duvet all day long only that you are thankfully out of bed.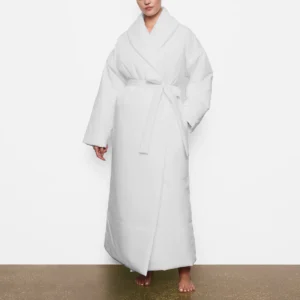 get the duvet coat, 100% cotton. also see velour robe
that's it for my top favorites from the holiday shop by skims. you can also get the shine leggings, mesh foil bodysuit, shine mini dress, silky bralette, silky shorts, rhinestone bra, rhinestone thong
hope this helps make it easier for you to shop gifts and treat yourself this holiday season.
-Memkoh
this post may contain affiliate links to compensate for the time and effort spent in putting it together. it takes about 5 hours from concept to researching items to drafting, editing and hitting publish. stores give us a little commission as a way of saying thank you for driving a sale. if you shop with our links, it will mean a lot to us and keep this blog going. thank you.